Welcome to the March 30th Foodie Friday.
Interview with New York Times and USA Today bestselling author, Lori Wilde.
Mlee: Lori, you and I must have been separated at birth. We're registered nurses, novelists, bloggers, foodies, raise chickens, love dogs, and we live on farms. When we talk, our conversations often center around chickens and our canine companions. Can you tell us a little about your dogs and farm life?
Lori: Hi Michael Lee, thank you for inviting me.
I have two dogs. A mini Aussie named Sassy who is Miss Personality and a rescue dog, part aussie and part mystery, named Dakota, who is such a gentle soul. Sassy is a great chicken herder. Dakota, not so much. Dakota has to be put in the kennel when the chickens are out because she behaves more like the mystery side of her heritage instead of the herding dog. The minute Sassy was introduced to the chickens, she knew exactly what to do and started rounding them up as a two month old puppy. The trick was teaching her to leave them alone the rest of the time. Let's just say in the beginning there was a lot of "leave it!" going on. Now, she knows not to put them up until close to dusk or when I tell her to "round 'em" up.
Mlee: How many books have you written?
Lori: I've written 64 books and just sold 5 more.
Mlee: Your latest novel, The Cowboy Takes a Bride, kicks off a new series that's located in the fictional town of Jubilee, Texas. What sort of place is Jubilee? What inspired you to write about it?
Lori:
Jubilee is a fictionalized version of my hometown of Weatherford, which is the Cutting Horse Capital of the World and the Peach Capital of Texas. Almost everyone in Jubilee owns a pickup truck, usually a dually, for hauling horse trailers. People here live and breathe horses. There's a strong sense of community. People depend on each other to help them out with their ranches and animals. If you throw a rock in any directions you'll hit a cowboy.
Source: HarperCollins/Avon via author
Mlee: . Tell us a little background about Joe's Chicken Tortilla Soup.
Lori: The story of Joe's tortilla soup started after my sister and I ate the most amazing chicken tortilla soup from The Mansions At Turtle Creek, (which is a chic-chic restaurant located in the part of Dallas now being satirized on the TV show GCB.) We spent months trying to guess what the ingredients were and we finally hit on this soup that comes pretty darn close to the real thing. Because of the peppers in it, it's a great soup to eat when you've got a cold. Warms you up from the inside out.
Joe makes it for Mariah when she's got a cold and they're rained in together.
Mariah is a terrible cook,
but Joe knows his way around the kitchen.
He can't always say how he feels,
so he shows his feeling through feeding those he loves.
I made this soup this week, and it was delicious. I'm not familiar with Tex-Mex cooking, and I sent Lori several photos from my iPhone. :-). I almost left out an important step--pureeing the onions and tomatoes. It's an optional step, but I wanted to experience the soup the way Joe and Mariah had experienced it in the book.
When you're sick with a cold, you don't want chunks of onions in your soup. So I rolled up my sleeves and dusted off my Cusinart.
...
Joe's Chicken Tortilla Soup
3 tablespoons extra virgin olive oil
4 corn tortillas, cut into long strips
4 cups fresh tomato puree
1 small can green chilies (drained)
2 jalapenos chopped with seeds removed
1 tablespoon ground cumin
2 Tablespoons chopped fresh cilantro
1 1/2 quarts chicken broth
Diced cooked chicken breast
Heat olive oil in a large sauce pain over medium heat. Add tortillas and garlic; saute until tortillas are crisp and garlic is golden. Add onion puree and cook for 5 minutes, stirring occasionally to reduce by half. Add tomato puree, chilies, jalapenos, cumin, cilantro, coriander and chicken broth. Bring to boil Lower heat and simmer for 40 minutes. Skim fat from surface if needed. Process through blender or food processor for smooth consistency if desired. If too thick, add more broth. Season to taste with salt, lime juice and cayenne. Top soup with cooked chicken, avocado slices, cheddar cheese and tortilla chips.
Mlee: What are your top five favorite dishes?

Lori: Top five favorite dishes are:
But alas, I can't eat like that any more. These days my healthier choices:
Spaghetti squash with olive oil and parm cheese
Rosemary chicken with roasted veggies
Mahi-mahi with mango salsa, grilled asparagus and quinoa
Greek salad dressed with lemon oil and apple balsam

Mlee: Let's play a word game. What is Lori Wild's "Me-ography"? What five words (nouns) define you?

Lori: I love Me-ography. I loved when Teeny plays me-ography in A TEENY BIT OF TROUBLE. My "Me-ography is:
Bluebonnets, books, olives, herding dogs and horned frogs.
Thank you for stopping by Foodie Friday today. If you are contributing a recipe to this week's linky party, locate the blue Inlinkz frog (below, left) and follow the instructions. You might notice a red "X" on your submission--only you can see the "X." It allows you to delete your link if you'd like to edit or change your photo.
The Foodie Friday Button: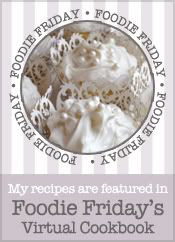 If this is your first time to participate in Foodie Friday, or if you aren't sure how to add a permalink, a short
tutorial
is available. If you are linking a recipe to Foodie Friday, a FF button can be found on the sidebar. If you'd like to add it, simply copy-and-paste the code beneath the button (located on the right-hand sidebar).
Please Read:
I'm happy for you to "pin" my original photos to Pinterest. However, the photographs in Foodie Friday's thumbnails belong to the bloggers who posted them. To visit these blogs, click on the Foodie Friday inlinkz icons and read their policy on Pinterest. Please pin from the source blog, not the blog that's hosting a linky party.
Happy Recipe Hunting!
Social Bookmarking