Over the weekend, I steeped white chocolate chips in Baileys Irish Cream. The result was ambrosial. I ate these scones for breakfast, lunch, dinner, and snacks. My husband is dieting, and somehow he resisted. He kept giving me side-long glances.
"Are you sure you ought to eat another scone?" he asked.
Probably not. But I'd discovered foodie nirvana.
You know what they say--a moment in the mouth, forever on the hips. But I don't care.
It was worth it.
. . .
White Chocolate Chip Scones
Printable Recipe
Ingredients
:
2 1/2 cups all purpose flour
2 teaspoons baking powder
3 Tablespoons unsalted butter, chilled and cut into tiny pieces
1 egg, beaten
1 cup buttermilk
1 teaspoon sugar
1/2 teaspoon salt
3/4 cup white chocolate chips
Baileys Irish Cream
Egg wash (with a pinch of salt)
Procedure
:
Place white chocolate chips into a bowl. Pour Baileys Irish Cream over chips and set aside. Preheat oven to 375-400 degrees (depending on your oven's temperament). Sift dry ingredients. Use a pastry blender to work in the butter. When the mixture is crumbly, add buttermilk and egg. Blend.
Drain chips and work them into the dough. Knead gently. The dough will be sticky, and you might want to spray Pam onto your hands. Turn the dough onto a floured board. Run a rolling pin over the dough (you'll want the dough to be about 2" high). Pat into a circle and place on a greased baking pan. Brush top with egg wash.
Bake in a pre-heated oven for 15 minutes or until lightly browned. Slice into wedges. You might want to drizzle your scone with creamy icing.
Yield: 2 dozen
I can't say enough nice things about these scones.
Each bite delivers an explosion of white chocolate and the slightest hint of Baileys.
Thank you so much for stopping by Foodie Friday today.
Your inspirational recipes make this day so much fun!
This week, please leave a comment and describe your recipe
--what made you want to cook it? Would you recommend the recipe for a party? Tell us ALL about it!
Be sure to visit
the menu
at the
Foodie Friday Cafe
this
Sunday, March 4th
. Quite a few entries from this week's Foodie Friday will be in the spotlight. To view last week's menu at the cafe, click
HERE
.
If you are contributing a recipe to this week's Foodie Friday, locate the blue Inlinkz frog (below, left) and follow the instructions.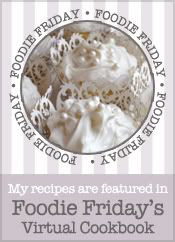 If this is your first time to participate in Foodie Friday, or if you aren't sure how to add a permalink, a short
tutorial
is available. If you are linking a recipe to Foodie Friday, a FF button can be found on the sidebar. If you'd like to add it, simply copy-and-paste the code beneath the button (located on the right-hand sidebar). Happy Recipe Hunting!
Social Bookmarking