Some people kiss the Blarney Stone.
Others serve this cake.
It's cute, easy, and a great conversation starter.
Rattlebridge Farm's Blarney Cake
1 angel food cake
icing (your choice)
1 small juice glass
flowers
1. Place cake on a plate. Slip sheets of waxed paper beneath the cake.
2. Ice the top of the cake (this is a great time to add sprinkles or colored coconut).
3. Set the juice glass in the cake's center hole.
4. Pour water into the glass and add flowers.
5. Ice the rest of the cake.
6. Remove waxed paper.
7. Serve the cake (and don't forget to kiss the cook).
...
Variations: Before icing the cake, cut it in half with dental floss. Spread pudding or jam--or a layer of icing--on the layers. Reassemble the cake and apply icing.
Thank you for stopping by Foodie Friday today. If you are contributing a recipe to this week's linky party, locate the blue Inlinkz frog (below, left) and follow the instructions.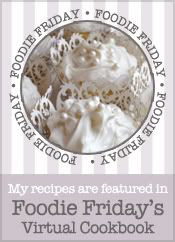 If this is your first time to participate in Foodie Friday, or if you aren't sure how to add a permalink, a short
tutorial
is available. If you are linking a recipe to Foodie Friday, a FF button can be found on the sidebar. If you'd like to add it, simply copy-and-paste the code beneath the button (located on the right-hand sidebar).
A note to the handful of bakers who visited the Foodie Friday Cafe on Sundays. I'm sorry to say it has closed. Thanks so much for your enthusiasm and support, ladies! I deeply appreciate it.
This Sunday, I'll post pictures of the renovation at Rattlebridge Farm.
Until then...
1.