Thank you for stopping by Foodie Friday today. If you are contributing a recipe to this week's linky party, locate the blue Inlinkz frog (below, left) and follow the instructions. You might notice a red "X" on your submission--only you can see the "X." It allows you to delete your link if you'd like to edit or change your photo.
The Foodie Friday Button: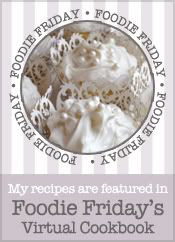 If this is your first time to participate in Foodie Friday, or if you aren't sure how to add a permalink, a short
tutorial
is available. If you are linking a recipe to Foodie Friday, a FF button can be found on the sidebar. If you'd like to add it, simply copy-and-paste the code beneath the button (located on the right-hand sidebar).
I'm happy for you to "pin" my original photos to Pinterest. However, the photographs in Foodie Friday's thumbnails belong to the bloggers who posted them. To visit these blogs, click on the Foodie Friday inlinkz icons and read their policy on Pinterest. Please pin from the source blog, not the blog that's hosting a linky party. Thanks!