www.houzz.com
Imagine that you've arrived at a garden party, and all of the guests--yourself included--are
T
otally
H
ouse
O
bsessed.
Eventually you will start talking about porches.
Glassed-in advocates will add the word "sun" to "porch," elevating it to a light-filled space that can be used 365 days a year--and the homeowner never has to sweep pollen.
Open porch
enthusiasts
will sing the praises of curb appeal and year-round charm. These spaces are sunnier. Doric columns add timeless elegance. No windows to wash. No screens to replace.
Screened porch aficionados love simple pleasures: a billowing curtain; the smell of grass; the tinkle of windchimes. These porches have built-in charm. They're close to nature, yet they're protected from mosquitoes. Best of all, the owners don't have to wash windows.
We can't decide what to do with our back porch (except we want to add skylights, so the interior spaces will be brighter).
It's a narrow porch, with a pea-gravel floor.
The first time I saw the porch, I imagined it with arched, floor-to-ceiling windows.
I imagined an outdoor living space beside the pool.
When the remodeling began in other areas, I began to mentally carve up the porch. My mind's eye saw French doors in the dark breakfast room. They'd open onto the old porch, and we could enjoy red velvet pancakes in a sunny, roomier spot.
I wouldn't have to enclose the whole porch; we'd still have room at the other end for a small porch of some type, open or screened.

But we wouldn't have much room.
During the last year, I've imagined the space in many ways.
Do I really want to cave up this small space? Would a wide open sunroom feel too wide? Would it be too hard to decorate? Long and narrow rooms are a challenge.
I've also considered leaving the porch alone or adding screens.
Back and forth I go, making countless lists. Studying the pros and cons of open vs. screened vs. glassed-in. All have virtures; all have drawbacks.
One minute I'm headed in this direction:
And the next I'm dreaming in yellow.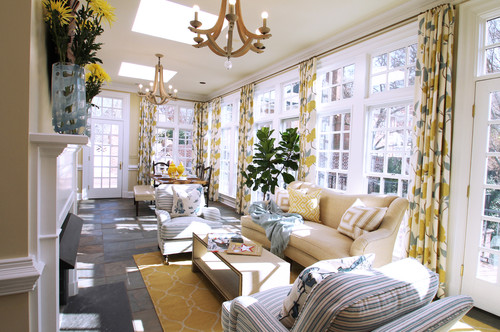 An enclosed porch could be a multi-purpose area. Now that Bandwidth is living with us, we need a bit more elbow room.
My mother has struggled with arthritis and illness; she has advised me to think about the future. Maybe Will and I need a porch that won't require constant cleaning.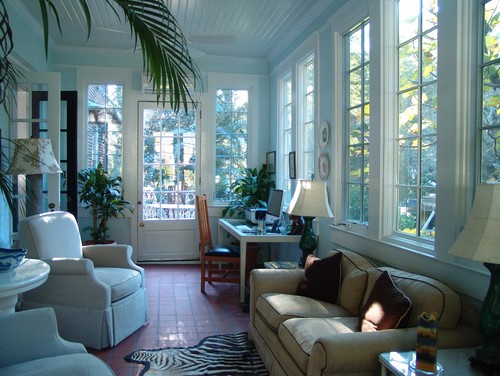 But I cannot ignore the virtues of an open porch.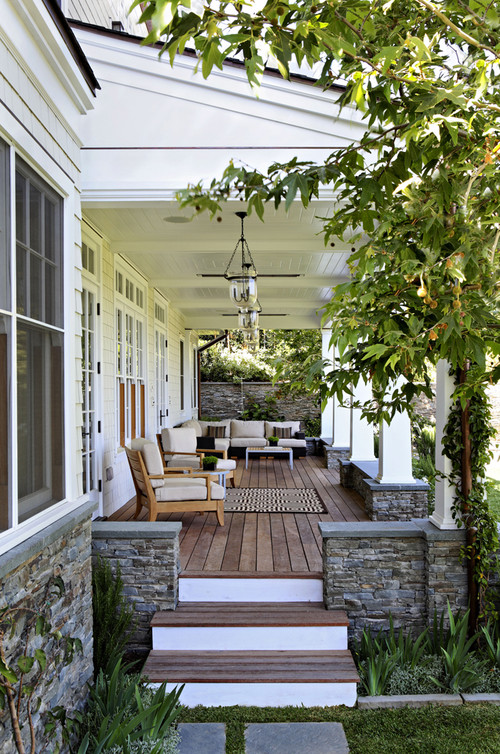 My previous home was a turn-of-the-century "Four-Square," and it had porches galore. I would flop on the wicker sofa and read. But I also spent a lot of time cleaning these spaces.
I love this space, but it's a good bit wider than my porch.
I can't overlook the charm of a screened porch. They are a part of my Southern upbringing, a place where memories converge. You don't have to drink lemonade and sit in a rocking chair to sense the romance on a screened porch. These cozy spots are the best transitional living places--you're inside and outside, all at once. The mesh protects against bugs and nesting birds.
Lunch on a screened porch is magical.
A quick search of www.Houzz.com proves that many of us are porch obsessed. We put welcoming flowers in our urns and hang pretty wreaths on our doors.
All porches speak to us and our guests.
A front porch says, "You're home" or "Glad to see you!"
A back porch says, "Life is slower here. Put your feet up, dahlin. Rest a bit."
Which type of porch do prefer and why?
all images via Houzz
Social Bookmarking
Top photo source: www.houzz.com