If you've followed my renovating journey, you are aware of The Bathroom That Can't Be Named and my quest to bend it into a quasi-Renovation Hardware en suite.
Lovely inspiration photos, to be sure.
I bought the sconces and the mirror. I painted the vanity.
But I ignored the floor. Early into the remodeling, I was baffled by an orange cast in the tile. Somehow that went away, heaven knows how, and now the black tile inserts are competing with the woodsy, beige Restoration Hardware look.
If I continue on this path, ignoring the black inserts, the decor will will fall prey to
choppy decorating.
In a recent post, Anonymous left a comment, suggesting that I paint the cabinets black.
It looks good!
Though I'd need to paint or glaze the mirror and sconces to prevent a new kind of choppiness.
Here's an example from Houzz.
The walls are beige, the vanity is black, the counters are dark.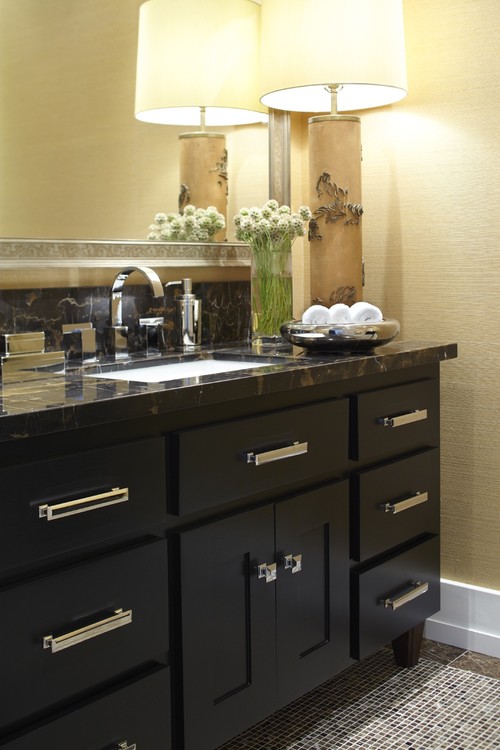 Shelia from Note Songs suggested a black granite counter.
It might be the perfect solution to tie the room together, and I wouldn't have to paint my mirror.
Here's another beige and black bathroom.
It's very handsome and pulled-together.
What's your opinion?
A. Paint the cabinet and mirror black.
or
B. Get a black countertop.
Just a little reminder about Foodie Friday.
Social Bookmarking